Daikin NEXURA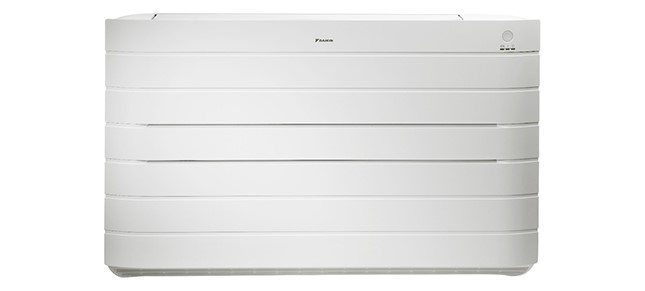 Available in Reverse Cycle (Heating & Cooling)
Capacities 2.5kW, 3.5kW, 4.8kW
Refrigerant R410A
Split Systems
Features
Get the best of both worlds and change the way you think about heating with Daikin Nexura.
Using the state-of-the-art technology and efficiency you'd expect from a Daikin, not only does the Daikin Nexura floor standing air conditioner offer the best of both heating and cooling as well as comfort and design, its best feature is a hidden one; the front radiant panel also heats up to give you that unique familiar comfort of a traditional warm radiator.
Engineered in Europe it also has a modern design that blends in seamlessly with your home's decor to turn any room into a haven.
SUPERIOR HEATING
Powerful heating mode rapidly circulates warm air throughout the room to reach the set temperature.

RADIANT MODE
Aluminium front panel warms up like a traditional radiator for that comfortable and nostalgic feeling that keeps you warm and comfortable.

WIDE OPERATING RANGE
Robust design enables the unit to operate from -15°CDB in Heating mode to 46°CWB in Cooling mode.

AIR PURIFICATION
Titanium apatite deodorising air purification filter traps microscopic particles, decomposes odours and even deactivates bacteria.

AUTO FAN SPEED
An optimal fan speed is automatically selected to suit the set temperature for a more efficient operation.

HOT START
Heating operation commences only when the airflow is warm, preventing those unwanted cold draughts.