Daikin FLOOR STANDING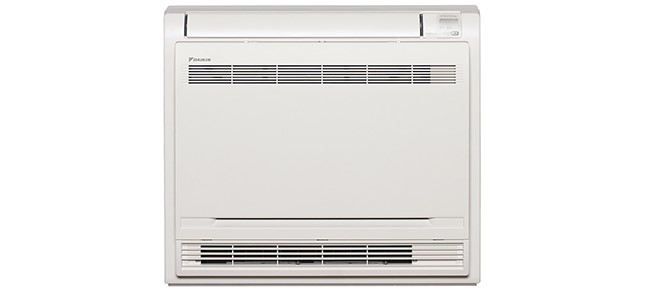 Available in Reverse Cycle (Heating & Cooling)
Capacities 2.5kW, 3.5kW, 4.5kW, 5.0kW, 6.0kW, 7.1kW
Refrigerant R410A
Split Systems
Features
Daikin's floor standing air conditioning units are compact and ideal for anyone wanting the convenience and access of positioning their unit closer to the floor. They come in a wide selection of capacities and can even be semi-recessed into the wall or in an unused fireplace.
AUTOMATIC MODE CHANGEOVER
Allows the unit to automatically switch between heating and cooling for year round comfort.

EVEN AIR DISTRIBUTION
Either top, or top and bottom discharge vents can utilised to distribute air evenly throughout the room.

HOT START
Heating operation commences only when the airflow is warm, preventing those unwanted cold draughts.

AIR PURIFICATION
Titanium apatite deodorising air purification filter traps microscopic particles, decomposes odours and even deactivates bacteria.

AUTO FAN SPEED
An optimal fan speed is automatically selected to suit the set temperature for a more efficient operation.

WIDE OPERATING RANGE
Robust design enables the unit to operate from -15°CDB in Heating mode to 46°CWB in Cooling mode.