Cassette
DISCREET, YET EFFECTIVE
The cassette units are extremely discreet with only the grille showing in the ceiling.
Air can be delivered in up to four directions, giving the room an even temperature distribution.
A highly efficient fan design, its wide airflow distribution ensures even temperature distribution.
Weekly timer allows you to plan your usage, helping you save on your power bills.
Cassette units are easy to clean and maintain.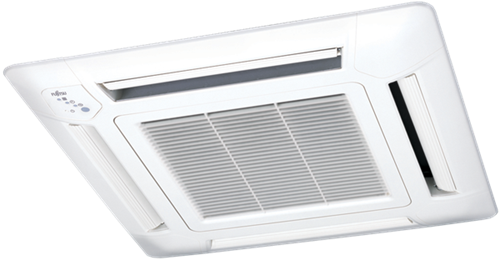 EFFICIENT, SIMPLE, DISCREET
Incorporating the latest fan technology, these units fit neatly into the ceiling and distribute conditioned air through 2, 3 or 4 sides of the unit. In addition, flaps allow air to be directed in either a pre-set or sweep pattern.
WEEKLY TIMER
The sophisticated weekly timer and remote controller not only makes it easy to adjust air conditioning units, but can also help realise considerable savings. It allows the air conditioning system to be programmed in advance to operate only as and when required.
Weekly timer features:
Possible to set different on-off time each day
Possible to set on-off time twice a day
Possible to set time by 5 min increments
The timer operation of a reserved day can temporarily be cancelled
by pushing the "DAY OFF" button
The system can also be manually overridden
Remote control operation
INTELLIGENT OPERATION
The air conditioner's output is stabilised at the optimum setting within the range from maximum to minimum to match the load, which is affected by factors such as the room temperature and the number of people present.
Range