MyLights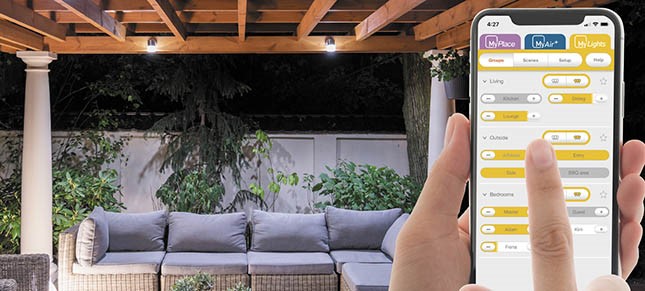 You feel safer when you can see. With MyPlace, one touch of MyWelcome lets you turn on all the lights you'd like to come home to; or tap MyGoodbye to turn off all the lights when you leave
MyLights
Control the lights in your home from your smart device
Enjoy the security, convenience and comfort of being able to control your lights remotely with our new smart LED lighting system.
Why MyLights shines:
Comfort and Security
With MyLights, enjoy the comfort of being able to turn on your lights from the car, so you always walk into a brightly lit home; the comfort of being able to control your lights while on holiday, so it always looks like you're home; and the comfort of knowing by switching to LED lights, you've reduced your lighting energy consumption by up to 80%.
Affordable smart system
Smart home lighting systems are no longer a luxury. Not only does MyLights cost substantially less than other smart lighting systems and is more energy efficient, you benefit from the quality and reliability of an Australian made system.
Intuitive to use
You don't need to study the user manual – MyLights is intuitive to use. You'll be able to set up and program the system yourself. Between the 8-inch touchscreen and smartphone app, you can control your smart lighting system from anywhere. Now that's comforting!
Australian made
At Advantage Air we believe that quality is everything, so our products are designed and manufactured right here in Australia. Being local, we offer excellent aftersales support and service. We have a helpline available, which is staffed here in Australia and they are experts in providing assistance to you.