Daikin CORA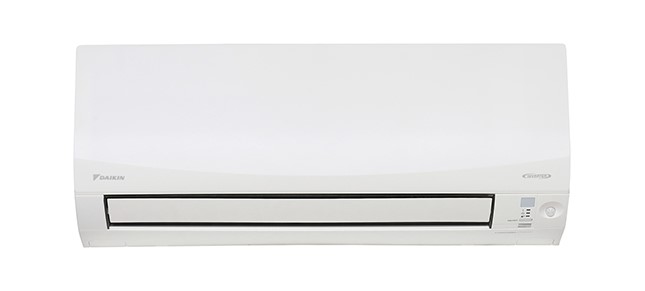 Available in Reverse Cycle (Heating & Cooling) Cooling Only
Capacities Reverse Cycle: 2.0kW, 2.5kW, 3.5kW, 4.6kW, 5.0kW, 6.0kW, 7.1kW, 8.5kW, 9.4kW Cooling Only: 2.0kW, 2.5kW, 3.5kW, 4.6kW, 5.0kW, 6.0kW, 7.1kW
Refrigerant R32
Split Systems
Features
Delivered in understated confidence, the Daikin Cora series features whisper quiet operation, industry leading energy efficiency and superior comfort levels without compromising on style.
Able to blend in harmoniously with modern bedrooms and living areas with its smooth contours and flat panel design in a high quality matte white finish, nothing compares to creating that ideal family sanctuary that makes you feel right at home all year round.
R32 REFRIGERANT
Enables increased energy efficiency and a significant reduction in 'Global Warming Potential Factor' - great for the environmentally conscious.

2-AREA INTELLIGENT EYE
An infrared human presence sensor helps prevent cold draughts and enables energy saving operations when the room is unoccupied for 20 minutes.
 
COANDA AIRFLOW
Discharge louvres designed to stream air along the ceiling for longer throws and delivering rapid cooling and even temperature distribution.

AIR PURIFICATION
Titanium apatite deodorising air purification filter traps microscopic particles, decomposes odours and even deactivates bacteria.

WHISPER QUIET
When in quiet mode, the indoor unit noise level drops to a whisper quiet 19dBA (20, 25 & 35 Class Model). You won't even notice that it's on.

PRECISION CONTROL
Room temperature can be set in increments of 0.5°C to ensure optimal comfort conditions all year round.