ARTG45LDTA 12.5KW(C)/ 14.0KW(H)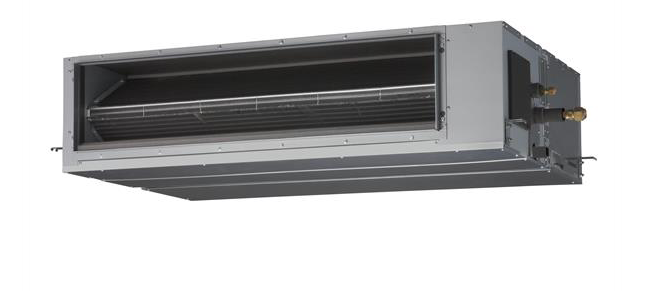 Separation of the evaporator is possible by lightweight and compact design. The indoor unit can be separated into the fan drive unit and the heat-exchanger unit to fit through the intake grill space or the roof access door.
Inverter - Ducted - Single Phase
Features
AUTOMATIC AIR FLOW ADJUSTMENT
When auto mode is selected for the fan, the micro-processor adjusts the airflow to follow changes in room temperature.

SLEEP TIMER
The micro-processor gradually changes the room temperature, allowing you to sleep comfortably at night.

ECONOMY MODE
Limits the maximum operation current, and performs operation with the power consumption suppressed.

ON-OFF TIMER
ON-OFF timer can be set to operate once every 24 hours.

BLUE FIN HEAT EXCHANGER
Corrosion-resistance of the heat exchanger in coastal areas has been improved by blue fin treatment of the outdoor unit heat exchange.

WEEKLY TIMER
Different on-off times can be set for up to 7 days.

AUTO RESTART
Should there be temporary loss of power; the unit will automatically restart itself in the same operating mode, once the power is restored.

PROGRAM TIMER
This timer allows selection of one of four options. ON, OFF, ON > OFF, or OFF > ON.

CONTROL PORT
External inputs and outputs contained within the product allow on/off control, fresh air interlock connection and heater bank element connection. UTD-ECS5A* (optional parts). * Selected ducted units only.

ALL DC
With All DC, electricity loss is decreased and power consumption reduced.

AUTO-CHANGEOVER
The unit automatically switches between heating and cooling modes based on the temperature setting and room temperature.

HUMAN SENSOR
Human sensor catches movements of people in a room.