Daikin ALTHERMA BI-BLOC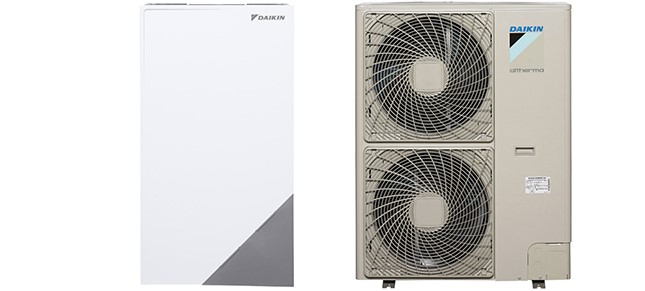 Available in Reverse Cycle (Heating & Cooling) Heating Only
Capacities Reverse Cycle: 11.2kW, 14.0kW, 16.0kW Heating Only: 11.2kW, 14.0kW, 16.0kW
Refrigerant R410A
Altherma Hydronic Heating
Features
Daikin Altherma Bi-Bloc is a highly flexible, energy efficient home heating system developed to provide homes with a total heating solution. With rising energy costs and high environmental impact, Daikin Altherma Bi-Bloc addresses these concerns with an all-in-one indoor space heating and domestic hot water heating system.
This system extracts heat from the outside air, raises its temperature and transfers the heat to the indoor hydrobox for water circulation in the underfloor heating circuit, radiators or fan coil units.
With low operating costs thanks to high efficiency without compromising on comfort, it is the perfect fit for new builds, as well as for low-energy homes.
EFFICIENT HEATING
Only requires 1kW of electricity to pump 3-5kW of heat into your home, much more efficient compared to gas heating.

ELECTRIC BOOSTER HEATER
In the event of insufficient heating capacity, Altherma is equipped with a back up heater to cover the short fall.

FLEXIBLE CONNECTION
Altherma is compatible with 3rd party fan coils, radiators and underfloor heat emitters.

NO GAS CONNECTIONS
Altherma works without the need for oil, flammable gas or other hazardous substances thus reducing the risks that these fuels may create.

WALL MOUNTED HYDROBOX
Hydrobox can be wall mounted and concealed in cupboards to maintain interior décor.

DOMESTIC HOT WATER
Altherma's design can be extended to provide domestic hot water over and above your comfort requirements by incorporating a domestic hot water tank.