AUTA36LCLU - 10.0kW(C)/11.2kW(H)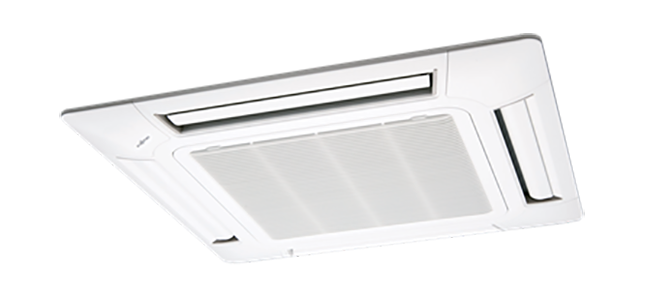 Incorporating the latest fan technology, these units fit neatly into the ceiling and distribute conditioned air through 3 or 4 sides of the unit. In addition, flaps allow air to be directed in either a pre-set or sweep pattern.
Inverter Cassette
Features
UP/DOWN SWING LOUVRE
The up/down louvre automatically swings up and down.

AUTO SHUT LOUVRE
The auto shut louvres close or open automatically when the unit stops or starts.

AUTO RESTART
Should there be temporary loss of power; the unit will automatically restart itself in the same operating mode, once the power is restored.

WASHABLE PANEL
Unit has a washable panel

FILTER SIGN
Indicates the filter cleaning period by lamp.

ON-OFF TIMER
ON-OFF timer can be set to operate once every 24 hours.

BLUE FIN HEAT EXCHANGER
Corrosion-resistance of the heat exchanger in coastal areas has been improved by blue fin treatment of the outdoor unit heat exchange.

CONNECTABLE DISTRIBUTING DUCT
Conditioned air can be distributed to adjacent areas by means of a distribution duct.

CONNECTABLE FRESH AIR DUCT
Allows introduction of fresh air to occupied space.

AUTOMATIC LOUVRE
The position of the louvres is set automatically to match the operating mode. It is also possible to adjust the louvres using the remote control.

AUTOMATIC AIR FLOW ADJUSTMENT
When auto mode is selected for the fan, the micro-processor adjusts the airflow to follow changes in room temperature.

PROGRAM TIMER
This timer allows selection of one of four options. ON, OFF, ON > OFF, or OFF > ON.

ECONOMY MODE
Limits the maximum operation current, and performs operation with the power consumption suppressed.

CONTROL PORT
External inputs and outputs contained within the product allow on/off control, fresh air interlock connection and heater bank element connection. UTD-ECS5A* (optional parts). * Selected ducted units only.

ALL DC
With All DC, electricity loss is decreased and power consumption reduced.

AUTO-CHANGEOVER
The unit automatically switches between heating and cooling modes based on the temperature setting and room temperature.

FRESH AIR INTAKE
Fresh air can be taken in by a fan which can be connected using UTD-ECS5A* (optional parts). *Selected ducted units only

WEEKLY TIMER
Different on-off times can be set for up to 7 days.