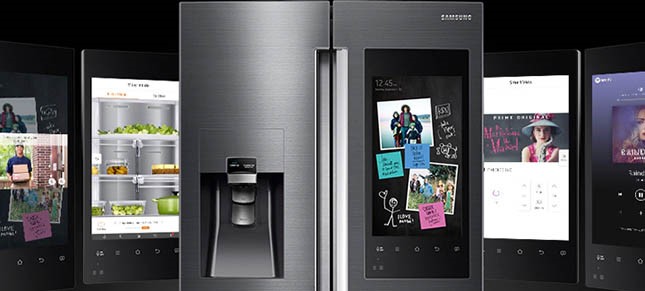 A refrigerator with a Wi-Fi enabled touchscreen that lets you manage your groceries, connect with your family and entertain like never before*.
*Existing Wi-Fi infrastructure and internet connection required.
It's more than a fridge. It's the Family Hub.TM
Food
VIEW WHAT'S INSIDE YOUR FRIDGE ANYWHERE
With a two-finger swipe down, you can now see what's inside your fridge without having to open the door. For those times when you're out on a grocery run, the built-in cameras can show what's inside the fridge on your compatible smartphone*. It also automatically tags food expiration dates and lets you create a shopping list, food memos or reminders.
COOK YOUR FAMILY FAVOURITES
Make mealtimes easier with the Smart Recipes App. Featuring delicious recipes with simple on-screen instructions, meal times just got easier. There's also the Meal Planner App that can suggest recipes based on your nominated preferences or the ingredients available.
SHOP FOR GROCERIES MORE EFFICIENTLY
Plan meals and create a shopping list with the Shopping List App. Simply add items to your list or if you are referring to a specific recipe, missing ingredients can be added with a touch or voice command. You can even access it on your smart phone and check it on while on a grocery run.
Family
CONNECT AS A FAMILY
Here's a new fun way to interact with your family and share messages or special moments. With the new Family Board*, you can now use the home screen or synchronise your smartphone with the Family HubTM to show photos, post stickers, draw pictures, type or handwrite notes.
ORGANISE LIKE A PRO
Calendar. It will be hard to miss a family even with the handy Calendar.
Memo. Have fun communicating with your family using the Memo, To-Do and Gallery Apps. You can quickly share memos, task lists, instructions, activity schedules and photos.
Morning Brief. Helps you stay up-to-date with important stuff. The morning brief displays the weather forecast, your calendar, even food reminders on the fridge screen.
Fun
PHONE AND TV MIRRORING
Cooking up a storm? Keep yourself entertained by mirroring what's on your smart phone* or TV* to the Family HubTM screen. Simply open the App, choose a compatible smartphone or TV and both screens will instantly show the same content – no additional hardware or software required.
NON-STOP MUSIC AND ENTERTAINMENT
Kitchen a mess? No worries. Just play your favourite music from Tune-in radio or Spotify apps on the Family HubTM fridge for an entertaining clean up.
HIGH-QUALITY, BUILT-IN PREMIUM SPEAKER
Enrich the entertainment in your kitchen with premium quality sound. The built-in Speaker will fill your kitchen with pure studio sound that's deep in bass and rich in mid-range.
Your Home
SMART HOME CONTROL
Turn your home into a smart home with Smart Things*. Using just your voice or a simple touch on the refrigerator's home screen, you can control compatible smart appliances and iOT devices. They can be turned on/off or have their settings updated, all from the screen of your Family HubTM fridge.
VOICE CONTROL
The New Bixby artificial intelligence (AI) system* lets you conveniently access a range of optimised and uniquely tailored services and content, like suggested meals, just by using your voice.
CONNECT WITH BLUETOOTH
Avoid touch screen smudge marks on your phone or fridge. Make or receive calls while cooking using Bluetooth connectivity. The fridge can seamlessly connect to your compatible smartphone to allow you to answer or make calls*. Depending on the smartphone model, you can also use voice commands to make calls.
*Response to calls can be from any smartphone. Making calls using your voice however is only available with Samsung Galaxy smart phones.